Gulf Stream Docks
Warranty
With a 20 year life expectancy, Gulf Stream Docks offers a 20 year warranty to cover the life of your dock. The warranty covers any defects in material or workmanship and should any defects arise, the affected part(s) will be repaired or replaced. Warranty defects in all modular dock systems are extremely rare and with our rigorous quality control procedures for the new Gulf Stream Docks system, we strive to achieve zero defects. The warranty does not cover damage to the dock. But do not worry, very little can or will cause any damage. In over a decade we have experienced that less than one-half of one percent of float modules are ever damaged or defective. In fact, Gulf Stream Docks have survived recent hurricanes in Florida with essentially no damage whatsoever. Th bottom line damaged floats are rare; it requires a significant force to puncture one. In the unlikely event that this should happen, you may only need to replace one float and not the entire assembly.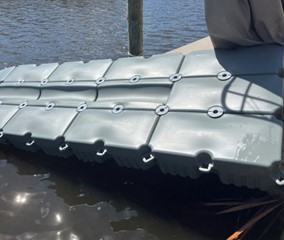 Gulf Stream Dock following Hurricane Ian.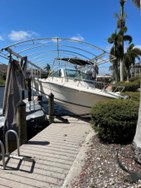 Traditional boat lift following Hurricane Ian.
Questions About Your Floating Dock
Needs?
Need help selecting the floating dock system that's right for you? Contact our office today to speak with a member of our staff about your needs. We welcome the opportunity to educate you of your options and earn your business!